You are here
Planned Giving
Supporting the Museum for Years to Come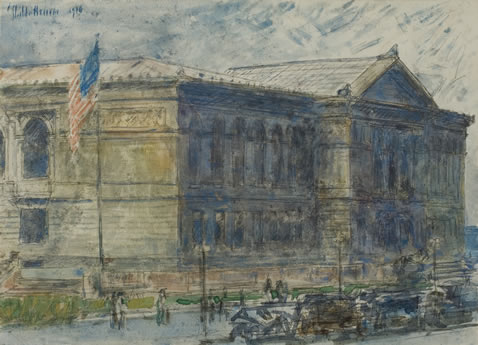 David W. Irwin, a founding trustee, made the first bequest to the Art Institute of Chicago more than 100 years ago. He and other farsighted Chicagoans knew that the young institution and its collection would grow and prosper only if it were financially secure-only if they and future members helped ensure its well-being and contributed funds as well as art.
Since then, many others have continued this important and critical tradition allowing the museum to provide the next generation with the opportunity to view and appreciate the great art of this country and of the world.
There are a number of creative ways to support the Art Institute of Chicago-ways in which the museum, you, and your love ones benefit at the same time. No gift is too small. The museum is happy to provide assistance to determine the best strategy to suit you and your family and your charitable intentions.
Where to Begin?
Credit: Childe Hassam, View of The Art Institute, 1916. Bequest of William McCormick Blair.