You are here
Planned Giving
Meet Our Donors
We thank all our planned-gift donors for their generous support. Here are some of their stories.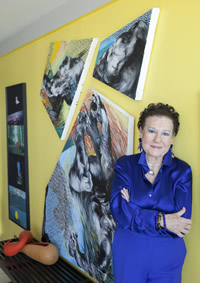 Marianne Deson
Born in Uxbridge, Ontario, Marianne Deson grew up in a family that embraced music and the performing arts. She later moved to Toronto to attend school, where she also met her husband, I.N. Herstein, a graduate student at the University of Toronto. The couple moved to the United States where Herstein received his PhD and lectured at various universities. During that time, Marianne took her first art history course and quickly developed a passion for visual arts.
The couple had the unique opportunity to move to Rome for three years, where they became part of the cultural community, befriending a number of contemporary artists—an experience that only intensified Marianne's interest in contemporary art. Initially Marianne and her husband brought art by the artists they supported home on return trips from Italy to share with friends. In the mid-1960s, when the couple settled in Chicago, Marianne's husband and friends encouraged her to show those works in her eponymous gallery. In time, she diversified by showing then up-and-coming artists such as Richter, Paschke, Nauman, Baldessari, Warhol, and Art Povera artists, among others.
"It was exhilarating working with artists early in their careers, helping them gain prominence in Chicago and develop into major global art forces," Marianne remarked about her days as a gallerist. "I was fortunate not only to work with such outstanding artists and collectors but to live in a city that embraced the arts with organizations like the Art Institute. Such an exciting time in the world of art!"
A longtime Art Institute member, Marianne looked for different ways to deepen her engagement with the museum as well as honor her parents. Beyond her annual contributions, Marianne made a special impact at the museum by supporting contemporary art acquisitions and including the museum in her estate plans. She also established a charitable gift annuity, a contract between a donor and a charitable organization in which a gift of cash or assets is made in exchange for fixed income for life.
"There are many organizations to choose from, but I feel that it has been immensely rewarding to support the Art Institute in these ways. The annuity allows me to receive a dividend yet make an impact at the museum long after I'm gone."